---
Home
Back
---
African Burial Memorial site
---
Deborah S. Morris Newsday Oct. 4, 2003 12:00 AM NEW YORK - From the spot alongside the East River where slaves once were sold and through the streets of lower Manhattan, the remains of 419 former slaves came home Friday for reinterment in the African Burial Memorial site, a return observed with ceremony both joyous and mournful.


Twelve years after the remains were unearthed from their resting place, an emotional throng paid respects. "We landed here this morning amid the skyscrapers kissing the sky to resume history. Had it not been for our ancestors, there would be no skyscrapers, and we are here to honor them and return them to where they belong, to what they have helped build," said the Rev. Herbert Daughtry, the activist minister who leads House of the Lord Pentecostal Church in Brooklyn.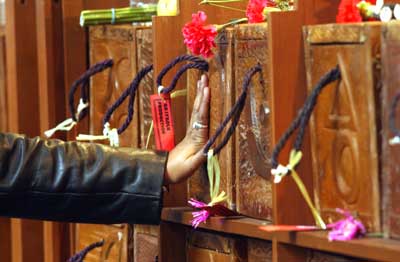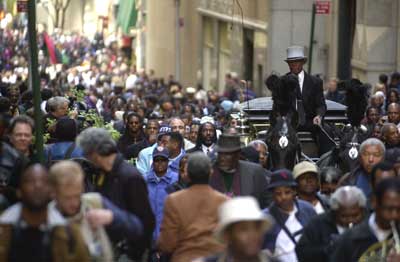 Four sets of the remains, representing the whole, arrived at what used to be a slave market at Pier 11 after a symbolic procession from Washington, D.C., where the remains have been stored at Howard University since shortly after they were unearthed in 1991 during excavation for a federal building. Those remains of two children and two adults made the journey home through Baltimore, Wilmington, Del.; Philadelphia; Newark, N.J.; and Jersey City, N.J.; before arriving in New York.


After a two-hour ceremony, three horse-drawn carriages, now holding all 419 sets of remains, traversed the streets of lower Manhattan to a gated memorial site. Once there, a 20-hour vigil commenced. All the remains are to be officially reinterred this afternoon.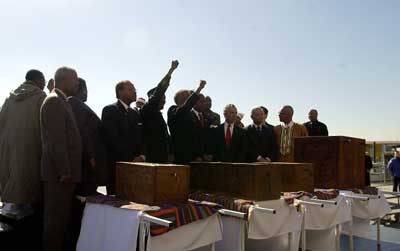 "It feels wonderful to be a part of this and learn the history firsthand," said Maimouna Youssef, 18, a student from Baltimore who traveled with the remains on the five-city tour. "I'm proud to be a part of this day." The morning ceremony at Pier 11 was both somber and celebratory. The four wooden coffins, hand-carved in Ghana, were front and center on a platform as a prayer was sung in the West African language of Yoruba. Two people wearing ceremonial African dress poured water as an expression of the concept that death does not end life, but is an event in life.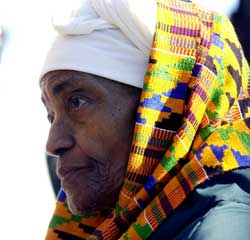 The day was lauded by former Mayor David N. Dinkins, the city's first black mayor, ... and a parade of dignitaries. "This day is very important. Especially for the young people. Living in New York, you tend to think slavery was only down South," said Jeffrey Kirkland, 37, a computer programmer from Brooklyn. "It shows that slavery was in the North and South. It is a lesson."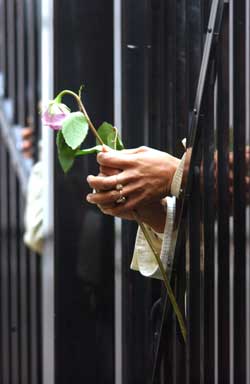 A procession follows horse and carriages carrying the remains of former African slaves through the streets of New York City en route to an African burial ground. More than 400 caskets, containing the remains of the slaves, will be buried again after they were discovered a decade ago during building construction in Manhattan

---
Feel free to send any links that you know of (and are not listed here) to .... ernest@roberts.net